Rehabilitation - Sports - Standing MRI - X-Ray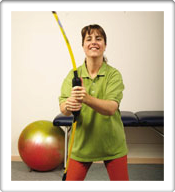 Functional Rehabilitation
Relieving Symptoms by Restoring Function
The main goal of this approach is to equip patients to perform their work, sport, study, leisure activities in such a manner that minimises their potential to re-injure their recovering clinical problem area. It is important that patients develop an understanding of what particular postures and movements in their various life activities may 'stir up' their 'weak spots'. They are then in a position to learn better posture and movement 'habits' – relieving pain by restoring function.
The initial step is for us to identify a patient's current capabilities – 'what you can't do', such as:
"I can't sit for long because of back and leg pain".
"My shoulder hurts when I pull my shirt on".
"I can't pick up my grandchild".
"I can't use the computer without getting a sore neck and headaches".
"When I swing my golf club I get pain".
"My tennis game is 'off'".
The next step is to bridge the gap to help you to achieve your goals – 'what you want to do':
sit comfortably, put your shirt on without pain, play with your grandchild, concentrate at the computer, enjoy playing golf, winning the tennis tournament.
Customised exercises are prescribed to help restore function in a range of key areas including flexibility, balance/coordination, stability and strength.
"Why bother putting in the effort to do exercises?", some people may groan. Well...., research evidence has overwhelmingly shown the importance of people leading an active lifestyle for a wide range of health benefits and cost savings. As they say: "use it or lose it."
Activity Pacing
For those people who have, unfortunately, suffered symptoms for a longer duration – chronic problems – it is quite understandable that they may have become miserable at times; their social life may have been impacted, they may have lost hope and are bothered by the possibility of not fulfilling certain work, sport, family aspirations. It is important that these sufferers understand that it is quite normal to experience a range of emotions, such as – discouragement, frustration, anger, sadness, etc. This is because, in a sense, patients with long standing symptoms and activity limitations often experience a form of grief over a range of losses in their life.
Sadly, some people also restrict their activities considerably for fear that they will aggravate their symptoms. If these individuals are physically unable to carry out certain daily activities or they avoid particular activities, body de-conditioning is the common result – body tissues (muscles, brain, nerves, ligaments, etc.) become unfit. To help address the problems of body de-conditioning, functional rehabilitation aims to progressively re-condition people by activity 'pacing'. This means that once initial activity limitations are identified, patients are prescribed a customised program of movements and exercises to reduce their activity limitations by gradually and safely increasing their activity levels.
If you need help with spine or sports rehab, call 9584 4856 to book your appointment.